155 in stock
Regular price
$305.00 USD
Regular price
$325.00 USD
Sale price
$305.00 USD
Unit price
per
Sale
Sold out
This versatile camping mattress is a hybrid custom-design that uses both open cell foam AND air to create the most luxury comfort in a Tesla Model Y. Self-inflating to 5 inches thick, firmness is adjustable with included cordless, rechargeable air pump.
Thickest and only hybrid cushion on market (5 inches)
Custom-designed to fit Tesla Model Y

 

 
Near perfect fit with Tesla Model 3, S and X
Moisture resistant surface and easily cleans 
Perfect storage in front trunk and sub trunk
Only 16 lbs. with 3 minute self-inflation
Sleeps two comfortably and specifically shaped for Model Y's trunk. Quick 5 minute deflation with included pump. The Travel Sleeper has also been used in SUVs, tents and as a home guest bed.
Materials

Open Cell Foam: Polyurethane Sponge

Weight:  16lbs.

Colors:  Light Grey for top and sides, with Dark Gray bottom.

Top and Sides: 50D polyester elastic, TPU, Non-Toxic, Silky Smooth, and water proof.

Bottom: 75D Polyester, TPU

Carry Bag has hand carry straps for storage and portability
Dimensions

Inflated size: 77" long, 47" wide at the shoulders, 38" at the foot of the mattress, and is 5" thick.  Sleeps 2

Travel Sleeper rolled up inside the stuff sack bag: 24x13x13 inches or an easier roll up without folding in half lengthwise 44x14 inside stuff sack.

Travel Sleeper also fits SUVs and Minivans with a trunk length of 77 inches when the middle seats are folded flat.  Fits Rivian R1S and most all brands of mid sized to large SUVs.
Shipping & Returns

At ForMyTesla, we offer a seamless shipping experience along with our exceptional products. Enjoy FREE shipping to the lower 48 states on select products, ensuring your convenience and satisfaction. Our commitment to quality extends to our shipping process, ensuring your order arrives safely and promptly.

In the rare event that you need to return a product, our hassle-free return policy ensures a smooth process. Please refer to our Returns Policy for detailed information on how to initiate a return and receive assistance from our dedicated support team. Your satisfaction is our priority, and we strive to make your shopping experience with us a delightful one.
Share
View full details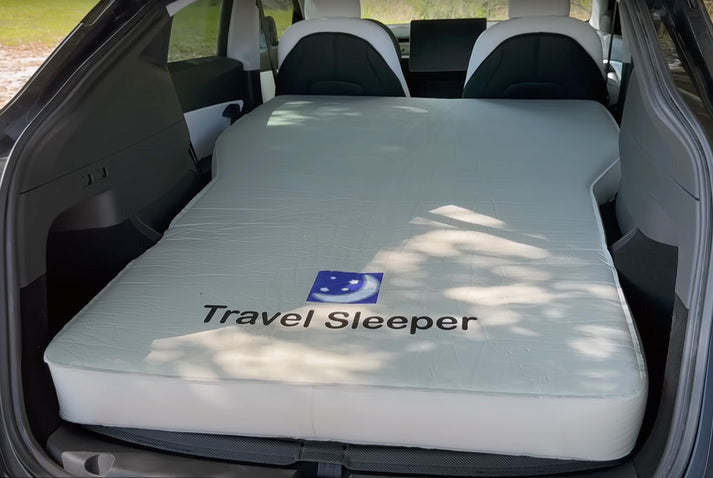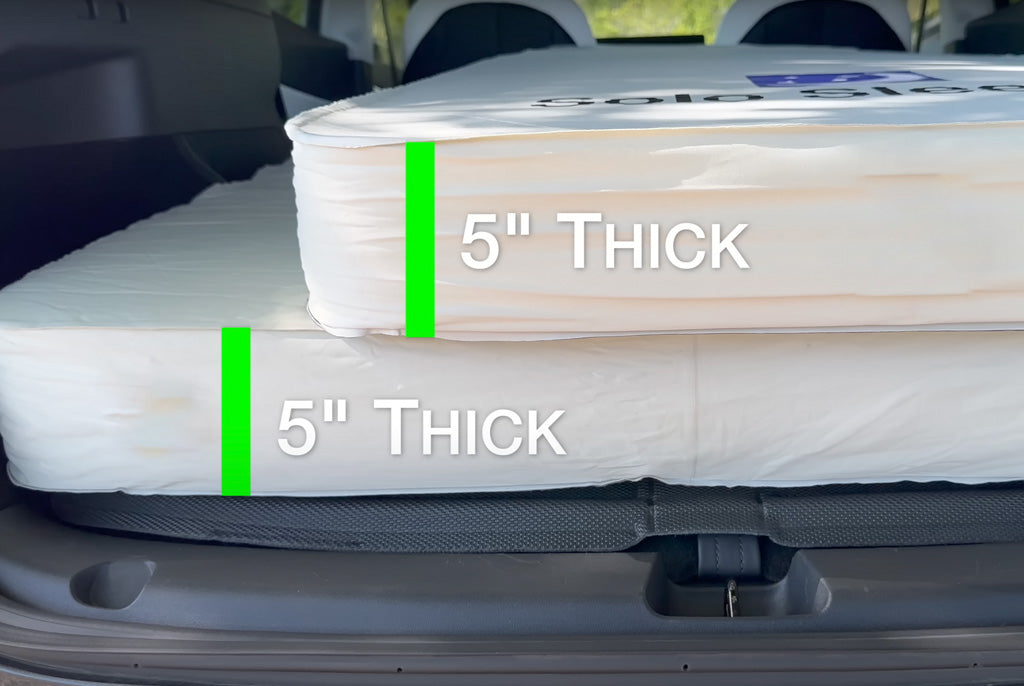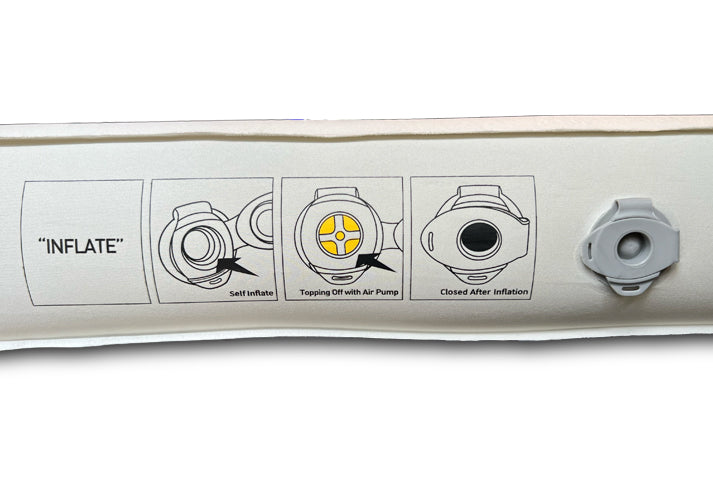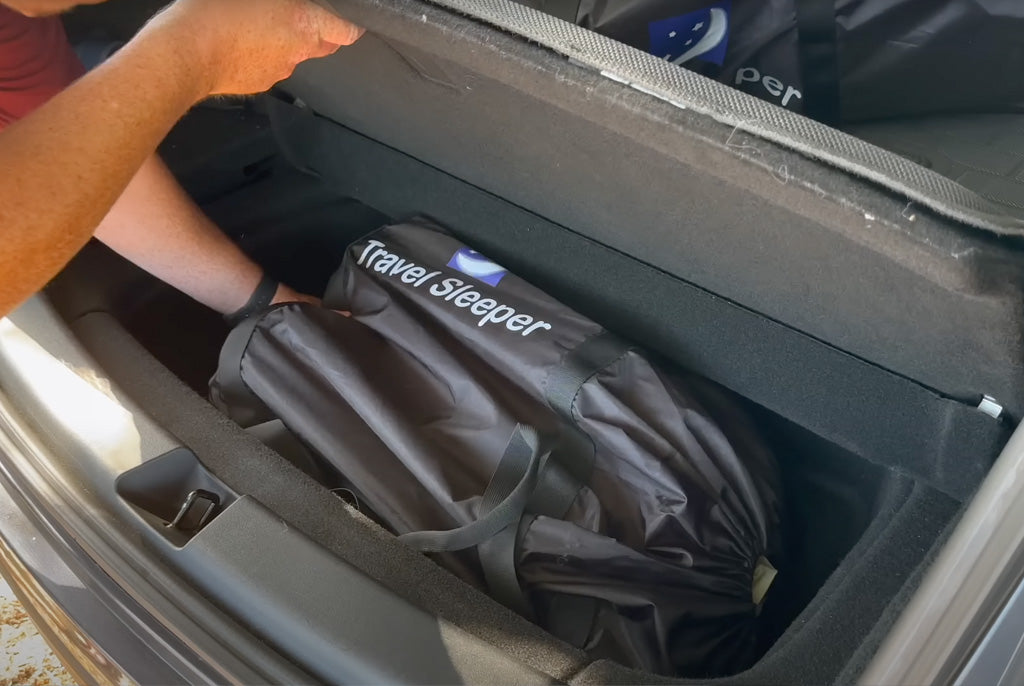 @BeardedTeslaGuy Presents: Tesla Mattress With Max Comfort and Portability - No Other Option But THIS One!
Frequently Asked Questions
How does the self-inflating feature of the Travel Sleeper mattress work?

The Travel Sleeper mattress features a self-inflating design. Simply open the valve and let the mattress expand and inflate on its own. You can use the included air pump to adjust the firmness to your preference. Checkout our full step-by-step blog post on how to properly use the Travel Sleeper mattress.
What are the dimensions of the Travel Sleeper mattress when fully inflated?

The Travel Sleeper mattress, when fully inflated, measures 77" long, 47" wide at the shoulders, 38" at the foot of the mattress, and is 5" thick.  It provides a spacious and comfortable sleeping surface for 2 adults to get a restful night's sleep.
Is the air pump included and what are the specs?

Experience effortless convenience with our Portable Cordless Rechargeable Air Pump. Designed primarily for quick deflation, this pump significantly reduces the effort needed to shrink the mattress for hassle-free storage during transport. Need extra firmness? The Air Pump easily adds the desired level of comfort with just 5-10 seconds of operation. Compact and lightweight at 6″ x 3.25″ x 3.6″ and 1 pound, this pump houses a powerful lithium-ion battery (12V) with input DC5V and an impressive 2000mAh output, ensuring a swift 300-350L/Min air flow. USB-C charging cable included for your convenience.

For the simplest deflation process, use the longest of the three additional nozzles by inserting it into the Open Deflate valve located on the side of the mattress. Ensure the opposite Inflate Valve is closed for optimal results.

Download our deflation and inflation instructions for more details.
How compactly does the mattress pack into the storage bag for travel?

The Travel Sleeper mattress is designed for easy portability. When deflated and rolled up, it can be efficiently packed into the provided storage bag, making it ideal for travel and storage in your vehicle.
Is the mattress suitable for various vehicle models, including SUVs and trucks?

Absolutely! The Travel Sleeper mattress is specifically designed to fit the Tesla Model Y, but it also works with a range of vehicle models, including SUVs, trucks, and more. Its unique sizing ensures a comfortable sleep solution for your travels, whether you're in an SUV or a larger vehicle.
What are some long term storage tips?

To maximize the lifespan of your self-inflating mattress, store inflated, with 2 valves open, under your home bed or on edge in a closet or your garage.  If your mattress is not stored fully inflated, the foam or cells inside it may become crushed, which could slow re-inflation
Luxury Hybrid Design: Open Cell Foam and Air Blend
Discover unparalleled luxury with the Travel Sleeper, a camping mattress designed for perfection. This unique hybrid marvel combines the plushness of open cell foam and the adjustability of air for an incomparable sleep experience within your Tesla Model Y. Self-inflating to an indulgent 5 inches thick, the firmness can be tailored to your preference using the included cordless, rechargeable air pump.
View Deflation Instructions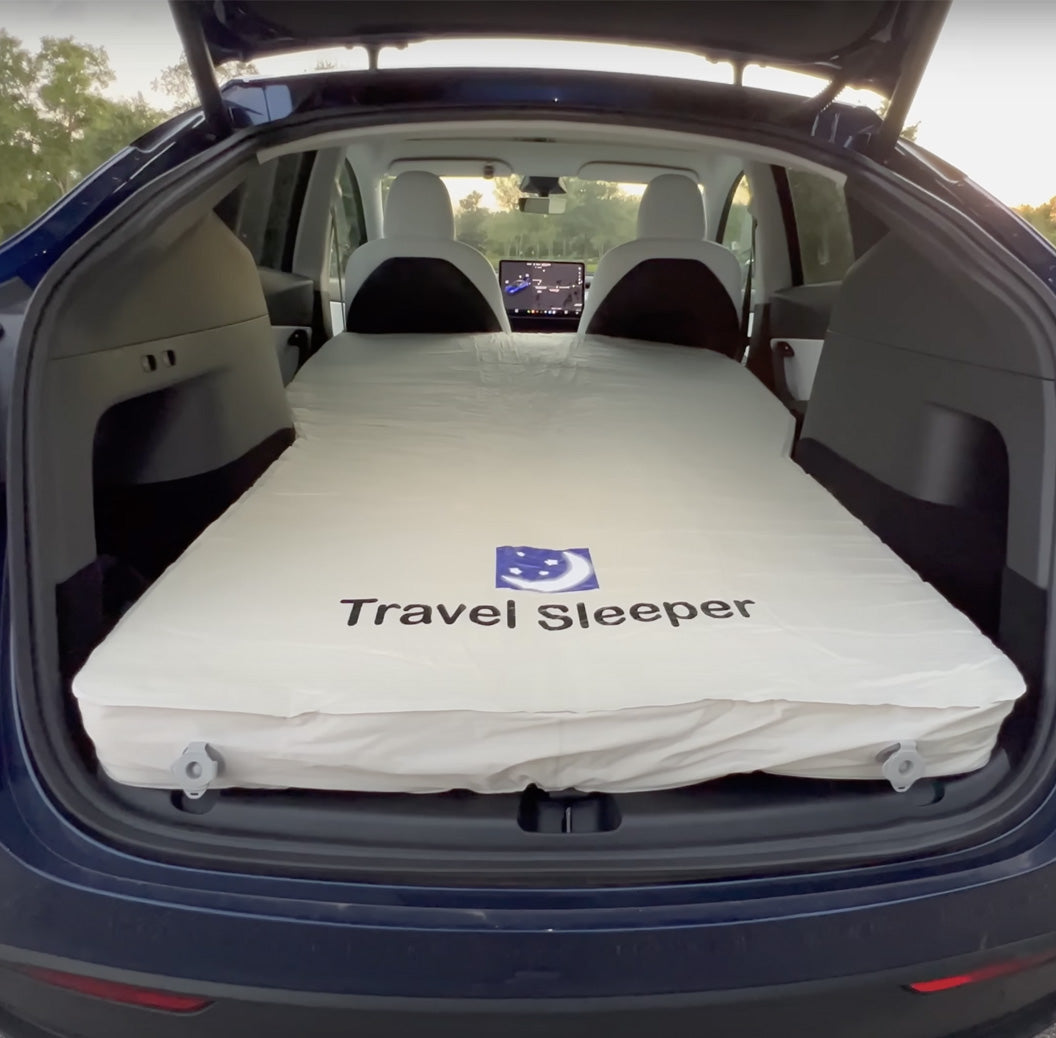 Tailored for Tesla: Model Y and Beyond
Immerse yourself in comfort designed exclusively for Tesla aficionados. The Travel Sleeper is meticulously crafted to fit your Tesla Model Y like a glove, while also extending its embrace to the Model S, 3, and X. Its moisture-resistant nature ensures easy upkeep, and the ingenious fit allows for storage in the frunk and subtrunk. At a mere 13 lbs, enjoy swift 3-minute self-inflation and sleep soundly for a rejuvenating journey.
Beyond the Tesla: Unleash the Possibilities
The Travel Sleeper transcends the confines of your Tesla, proving its adaptability in various scenarios. Designed for a cozy duo, it's specially contoured for the Model Y's trunk, accommodating two with ease. Swift 5-minute deflation using the included pump ensures hassle-free packing. Its versatility extends to SUVs, tents, and even home guest beds, making it your steadfast companion for exceptional comfort, anywhere your adventures take you.
Frugal Tesla Guy's Positive Review on YouTube: Unveiling the Comfort of Travel Sleepers for Tesla Camping in Model 3